WHICH IS THE BEST
GRAMMER CHECKER TOOL?
Which Grammar Checker tool is Better: Grammarly or Ginger?
It might be difficult to find the right one for you as a new digital marketer. Grammarly vs Ginger comparison, you'll choose your tool based on the features that are most important to you.
Both Grammarly and Ginger are capable of detecting grammatical and spelling errors. They also double-check for typos, homonyms, & other grammatical problems.
There are some parallels between the two, but there are also some variances. Let's get right into the Grammarly vs Ginger comparison, and we'll look at each software separately. Does it seem reasonable? Let's get this party started right now.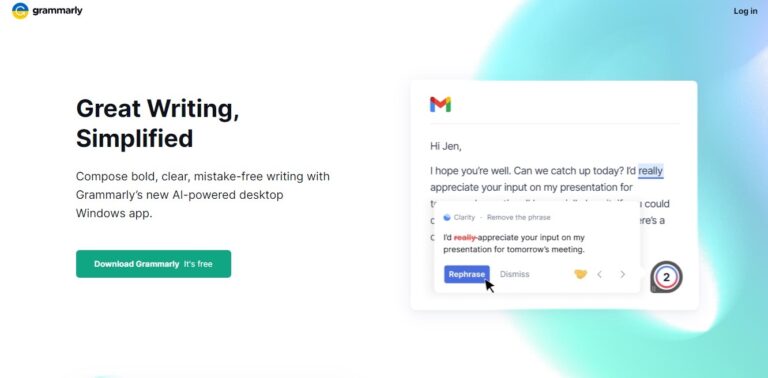 If you write on the internet, you've probably heard of Grammarly. It is without a doubt the most popular AI writing assistance, with over 10 million daily users around the world. As a result, it's likely that you already understand what Grammarly is. But let's define Grammarly for the sake of comparing it to Ginger. It's an AI writing helper that checks for grammar problems, punctuation, and spellings, just like Ginger. The fundamental features are included in the free version.
Grammarly's Premium edition, for example, identifies plagiarism in your material, proposes word choices, and adds fluency to it, in addition to recognising grammatical and spelling issues.
Features & Benefits of Grammarly
As a result, it can detect simple to sophisticated grammatical errors. If you're not sure if you've made a mistake, Grammarly can assist you figure out why. It performs everything in real time as you type. It also gives you suggestions on how to strengthen your phrases.
Take a look at some of the most significant advantages of Grammarly :
Check spellings in English from the United States, the United Kingdom, Canada, and Australia.
Recognize discrepancies
Determine the existence of an ambiguous structure.
Examine wordiness and misuse of words.
Learn about the incorrect tones.
Find all about the offensive language.
Ensure that your aim, audience, emotion, style, and other factors are all in sync.
Grammarly is a sophisticated AI writing tool that can help you write on the move, and it works with almost any sort of website.
Ginger is an artificial intelligence (AI) writing tool that corrects spelling and grammatical errors as you type. It works effortlessly in your favourite applications and websites, correcting everything from basic typos to complex grammar issues in real time.
Ginger provides you with all of the tools you'll need to make your article stand out on your website. It also aids in the improvement of your grammar while on the road. As a result, it not only detects grammar errors but also helps you improve your writing abilities by displaying synonyms and other facts.
Grammarly vs Ginger : How they are different
Ginger and Grammarly are artificial intelligence (AI) programmes that help you edit your writing while you're on the move. They are capable of detecting errors in spelling, word choice, grammar and other areas. Although each tool casts a wide net, there are some variances between them.
Let's take a closer look at the distinctions between these two online tools : 
Ginger offers Desktop access unlike Grammarly
Ginger provides writing assistance that can be accessed through a web browser as well as an iOS & Android app. It's also accessible for Windows and Mac.
Grammarly is a text editor that features a Windows desktop programme but not a Mac version. Grammarly Keyboard for iOS and Android, on the other hand, is available.
Unlike Grammarly, Ginger has a desktop programme for Mac, which makes it an obvious winner.
Grammarly offers Plagiarism Checker unlike Ginger
Grammarly has a great feature for checking your material for plagiarism, while Ginger doesn't have one. Ginger does not assist you in avoiding plagiarism, which is incredibly vital in today's society.
Grammarly comes up on top due of its strong plagiarism detection feature.
Unlike Ginger, Grammarly assists you in checking uploaded documents
You may use Grammarly to check the papers you've submitted. Ginger grammar software, on the other hand, does not assist you in this regard. That's why using Grammarly as a writing aid is beneficial because you don't always want to copy & paste the content.
Ginger provides Text to Speech Features unlike Grammarly
As a result, Ginger software assists you in improving your spoken English & determining if your text is speaking fluently. It accomplishes all of this thanks to its fantastic Text Reader function. It comes in handy when you need to write something casual.
Features and Benefits of Ginger Software
Ginger software application allows you to check for typical grammatical errors such as consecutive nouns and spelling correction in context. It also allows you to repair errors while on the fly. You may use the sentence rephrasing function to come up with the right sentence to express your message.
Ginger functions as a personal trainer, providing you with practise sessions depending on your errors. It also has a text reader, so you can see how conversational your material is. You may look up the definition of any term using the dictionary tool.
Let's enlist all important features in bullets:
Spell check
Grammar check
Text reader
Sentence rephrase
Personal writing trainer
Dictionary
Translator
Emoji feature
Yes, it features an emoji tool that adds thousands of emojis to your work to make it stand out. It's also mobile-friendly, so you can work on it from your phone. Finally, Ginger is compatible with Microsoft, Mac, iOS, Android, Safari, Chrome and other platforms.
On other side, Grammarly does not have a text-to-speech option. The programme, on the other hand, allows you to voice-type your content. Ginger, on the other hand, comes out on top!
Unlike Grammarly, Ginger support 40+ Languages
Without a question, this is the most important distinction for non-English authors and marketers. Grammarly may be even more famous than Ginger, but it lacks support for over 40+ languages and grammatical checks. Once again, Ginger comes out on top.
Grammarly VS Ginger : Pricing Comparison
While both writing software provide free basic functions, they also have Premium and Business options. Let's look at how much these AI writing aides cost.
For a monthly plan, Ginger provides a Premium subscription plan for $19.99/month ( sometimes it is $13.99/month with a special deal). It costs $12.48/month for a yearly membership ($7.49/month as special offer).
Ginger is also available for $9.99/month for a two-year subscription ($6.99/month as special promotion). The special offer is active at the time of writing, but it might expire at any time. You should look at their official page for price information.
Ginger for Business subscriptions start at $149 per month and go up to $249 & $349/month, depending on the demands of your firm.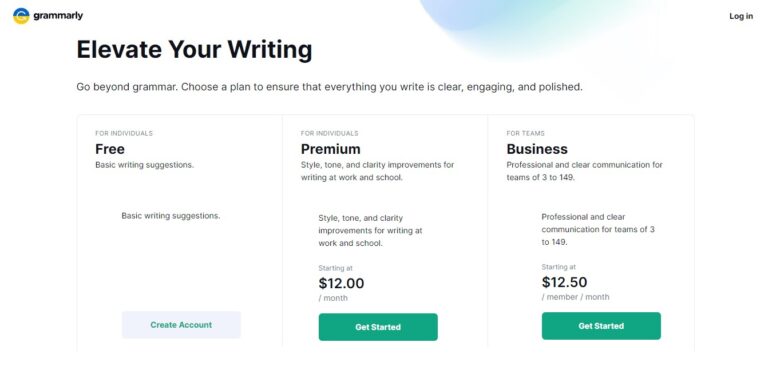 Grammarly, on the other side, provides a premium Subscription plan for $30 a month on a monthly basis. It costs $20 per month for quarterly subscriptions and $12 per month for annual subscriptions.
For each member of your company's workforce, the Grammarly for premium Business plan starts at $12.50 per month. In addition, the subscription must be purchased by at least 3 members of your team.
Final Thoughts: Grammarly is pricier than Ginger, particularly for monthly subscriptions. But, before we go any further, let's be honest & learn more about both software applications. Let's get Grammarly up and running.
Summarizing Grammarly VS Ginger : Best Grammar Checker Tool
While both writing aids are excellent in many respects, you must select the best one for you. It also depends on your requirements. If you do not want to pay extra for plagiarism tools, for example, Grammarly is a good choice.
Grammarly VS Ginger
If you want to experiment with terms in languages apart from English, go with Ginger. For your convenience, I'll summarise the differences:
For Mac users, Ginger includes a desktop application (Both have iOS and Windows and Android apps)
Grammarly has a plagiarism detection feature
Grammarly is a tool that allows you to double-check documents that you've uploaded
Ginger is a text-to-speech software
Grammarly features a better user-friendly interface and user experience.
Ginger is available in over 40 languages.
Without a doubt, Grammarly and Ginger are fantastic writing tools. Which one you select is determined by your requirements. If you are going to pay attention to your text, Ginger is the way to go.
Grammarly, in my view, is more user-friendly and easier to use than Ginger. It also assists me in detecting plagiarism in my writing. That is why I advise going without thinking about it. When writing in a language rather than English, though, Ginger is your only option.