In today's world, if you are running your business, you have to have a higher potential with incredible skills and strategies. In the age of higher market competition, one has to work by choosing almost all the parameters that make any business profitable, whether it is an online strategy or an offline strategy.
Keeping these things in mind, here we have covered the most advanced sales engagement platform, which not only profits your business but also helps to brand your business with proper analytics. 
What is Reply.io - Sales Engagement Platform
Reply.io is a highly advanced AI-powered sales engagement platform that helps businesses reach out to a larger number of targeted audiences. It lets you connect with potential customers through different channels and keeps each interaction personalized. 
Reply.io automates everything when you are searching for leads or connecting by email. It allows you to spend more time discussing deals with customers and finalizing deals through its outstanding automation process. In other words, it's a complete Lead Management software that offers you the opportunity to reach out to an outstanding number of target customers concerning your business.
Features of Reply.io - The Best Sales Engagement Platform
Some of the salient features of Lead Management Software are : 
(1) Multichannel outreach automation and analytics 
Full and Semi-automation feature for Call/Emails/ SMS/ WhatsApp/LinkedIn
Get Analytics for emails, calls, tasks, meetings booked
Integration with Zapier
(2) Focus on deliverability and engagement
Advanced sending algorithms
Industry-leading Email Warm-Up
Branded Links
Multiple sender email IDs per sequence
Deliverability audit
Ongoing deliverability and copywriting consulting
(3) Email prospecting
Unlimited search credits
95% validity rate
Seamless integration with Sequences
Supports Linkedin, Sales Navigator, Recruiter
(4) Seamless integrations
Native CRM integrations
Zapier
Make.com
Integrately
(5) Ongoing hand-holding and support by experts
Onboarding/training session
Deliverability audit
Copywriting consulting
Regular check-ins
Live tech support
Why Reply.io is a perfect sales engagement platform to automate sales?
Scale & Grow your Pipeline: Reply automates LinkedIn outreach, personal emails, SMS and WhatsApp messages, calls, and tasks.
Build laser-focused prospect lists: Build laser-focused prospect lists with hassle-free data sourcing for sales pros. Use Reply's 140 million database. 
Cloud calls and dialer: Leverage the cloud calls and dialer features to reach out to hot leads faster, right from within Reply or the extension. Utilize the power of reply as a sales management software.
Team Collaboration: Collaborate with your team on sequences and prospects, manage team members, share templates, track team performance.
User-friendly UI : Reply's user-friendly UI with in-app onboarding tips will help you launch your first sequence in minutes.
Analytics with AI-based metrics: Explore granular analytics with AI-based metrics for emails, calls, tasks, and team performance.
Availability of Triggers: Automate lead routing, contact moving between sequences, and other cases with Triggers.
Perfect outreach with magic sequence: Effortlessly craft the perfect outreach with magic sequence, combining AI and your value proposition for maximum impact.
Books Appointments: Reply automatically identifies sales-ready leads with meeting intent and books appointments with them.
Email Warm-up: Use Reply's automated Email Warm-up service to prepare an email account for effective outreach.
Execute tasks automatically: This Lead Management Software execute tasks automatically generated from sequence steps faster with the Task flow feature.
AI-backed Email Assistant: Benefit from AI-backed Email Assistant to generate human-like emails & follow-ups in seconds, improve email text.
Email and sequence templates: This sales engagement software employ email & sequence templates with proven efficiency for sales outreach.
Build-in CRM integrations: Streamline your workflow with built-in CRM integrations, no-code platforms, and API with 40+ methods.
A/B split testing: Reply.io utilizes A/B split testing to test email messaging and improve overall sequence results.
Sync Data with CRM: Discover prospects on LinkedIn, sync data with your CRM, accomplish tasks and make calls with Reply's Chrome Extension with complete ease.
Who are the users of Reply.io (A Lead Management Software)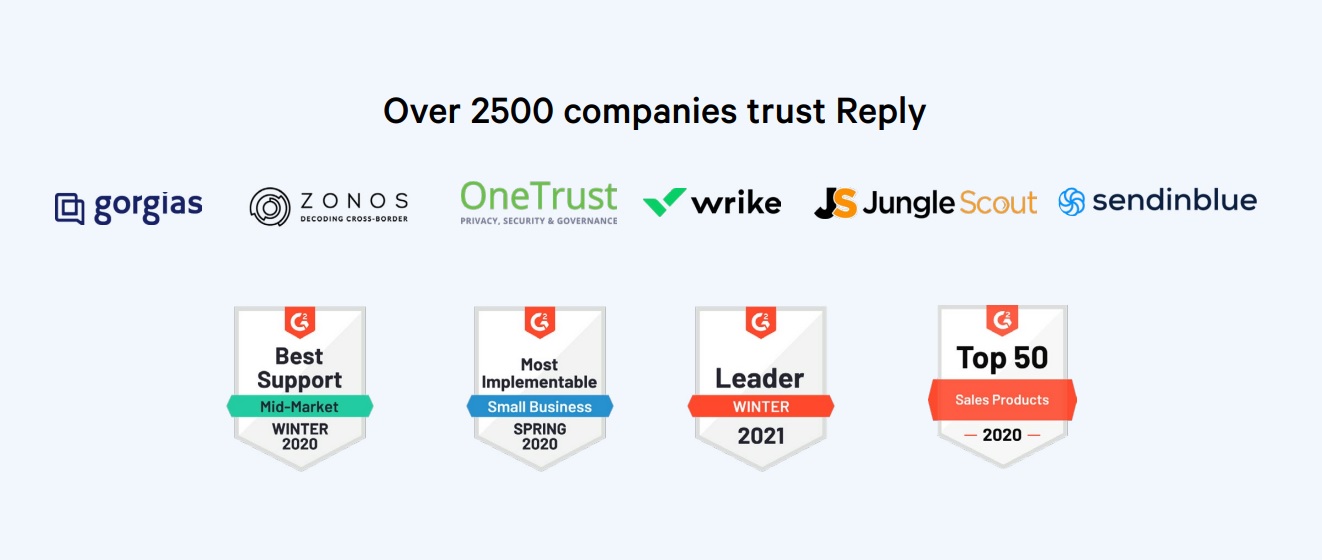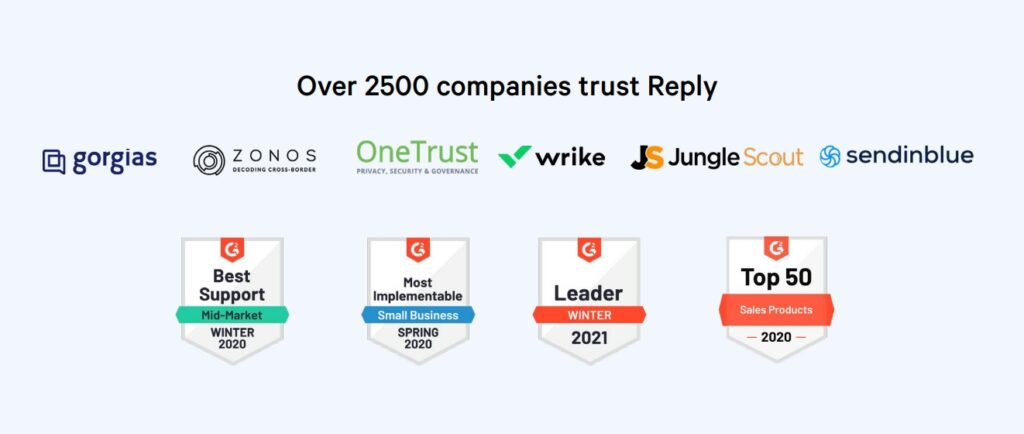 The best part of this Sales or lead management software is that it can be utilized by anyone who involves high-volume outreach and, more importantly, a high reply or engagement rate. Some of its most frequent users are listed below:
Accelerate your Revenue Stream with the Best Sales Engagement Software in 2023
Yes, we can understand that you are tired of manually searching for leads and sales after sending countless emails. Leave this headache to Reply.io, which is a powerful sales engagement platform built with high-end AI technology.
It empowers you to generate new opportunities in terms of leads and sales, allowing you to focus on what truly matters by automating key sales engagement processes.