Software to Create Online Courses 
The age of technology is one where data and information play a crucial role. You can easily share information as quickly and easily as uploading a video on YouTube, Facebook, Instagram, etc. 
But sometimes creators may not able to provide in-depth information to their users because of the lack of customization, limited features and less earning. Every creator wants to present their skills in a way that ultimately improves their customer base and also their income, but it requires a huge investment during its setup and promotion.
Here's where this online course platform can resolve the issues. Yes, we are talking about Thinkific. It streamlines the entire process, allowing you to concentrate on your content and students, with ready-built infrastructure intended to make building an online course quick, simple, and lucrative.
Thinkific : Best Software to create online courses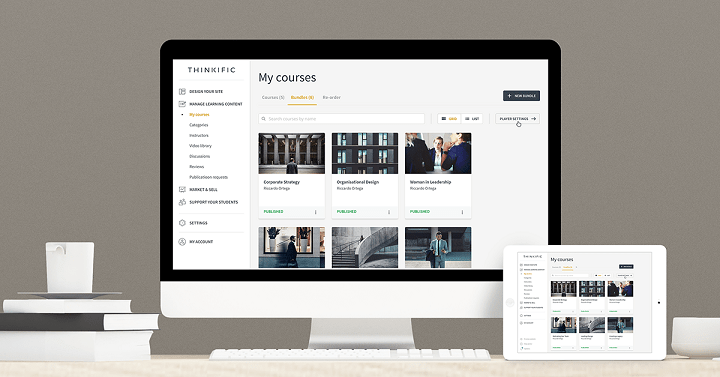 There are multiple software to create online course(s) but it might be complicated to choose the best one. You may be stuck deciding how many lessons ought to be present at the start. Where and how to land our tasks, assignments, and test series ? What kinds of file formats do you need to add? Thinkific's easy-to-use templates remove the guesswork from creating courses.
The course materials and the landing pages are the two important parts that make up a Thinkific course. It would be a great option to pick one from the following: pre-sell, mini-course, membership resource library, flagship course, and webinar replay. Thinkific templates give you useful hints and pointers to construct worthwhile courses, unlike other course builders where you start from scratch.
When you have added your courses to the Thikific platform, the next step would be to get a high-quality testimonial from the students. This makes your course valuable to visitors and also improves the ranking on online course platforms. Here, Thinkific provides an option for its users. You can directly use these reviews on your landing pages. best online course platforms
COST & PRICING
Thinkific is a stunning software to create online courses, giving away a full Premium or PRO feature set for one month. Go and create your course and start earning online before the offer expires.
A Short Demo for the Best Online Course Builder Software