BUILD YOUR BUSINESS WITH

BUBBLE.IO -

THE BEST NO CODE APP BUILDER TOOL
Building a Web application is truly demands a team of qualified & skilled developers. It takes a lot of efforts from design to development and from development to deployment. Covering the reality, the whole process demands a huge expense and time of efforts. 
No code revolution is trending now a days and soon it will replace the traditional ways of development. Considering this thing in mind Bubble developers developed a platform where any user can create their own app without any knowledge of coding.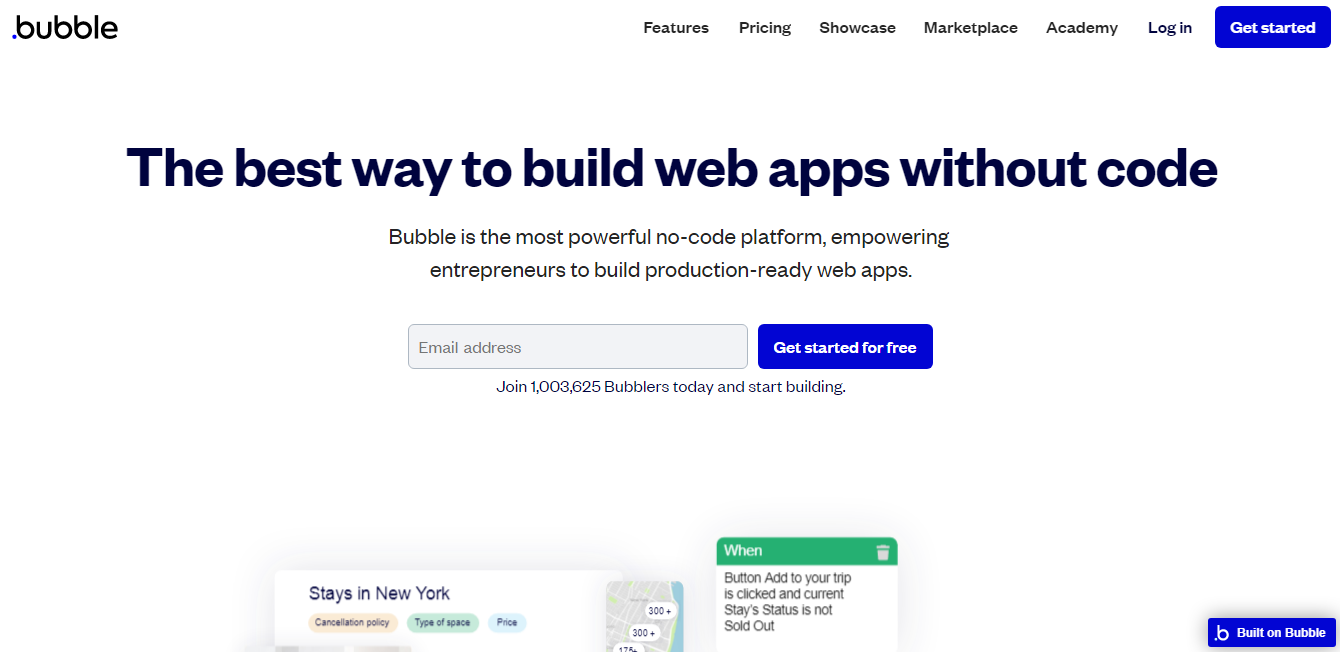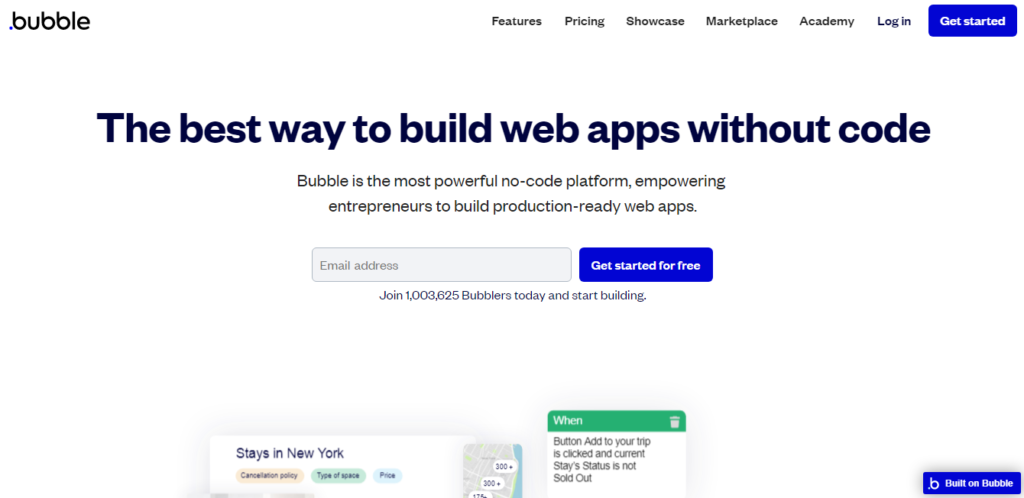 Bubble.io is the best App Builder no code tool where any kind of web application like Facebook, Uber, Airbnb, Trip advisor, different SaaS based applications etc can be developed without any coding knowledge or experience. 
If you have any Idea to implement then don't take a headache of its development. Just utilize the stunning features of this no code app builder tool, it will make your every expenses to almost 'Zero'.
Features of

BUBBLE

No Code App Builder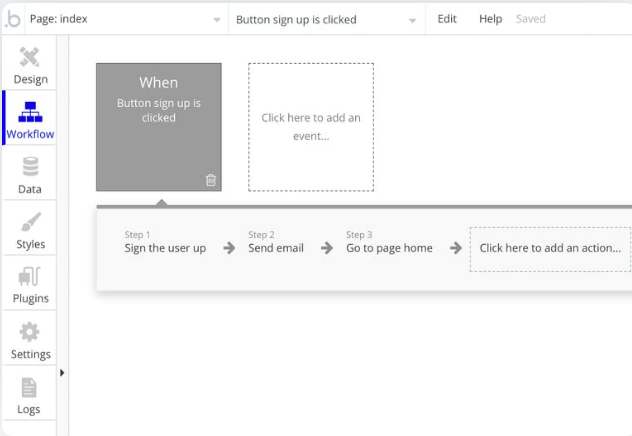 Drag & Drop Editor
Develop a easy-to-use and user friendly no code web builder applications with Bubble's Drag & Drop Editor. Manipulate with entire UX design as per your requirement.
Manage Data Dynamically
Bubble comes with a strong Data management handlings. Through this no code app builder, you can easily manipulate with Data to perform dynamic user experience.
Stunning Integration Facility
This highly advance no code tool makes any app to be integrated with simple clicks & webflow. Integrate with any API with its no code API Connectors through its Bubble Plugin marketplace.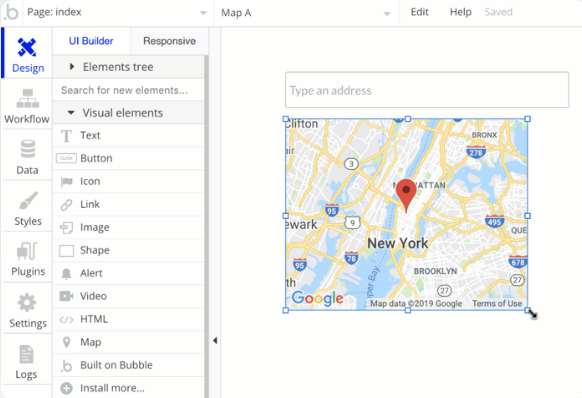 Drag & Drop Editor
Create designs with all important stuffs like images, video, buttons, blocks and more via its amazing Drag & Drop design feature. No need to have an experience on HTML or CSS.
Dynamic Content Usability
The best no code app builder tool provides stunning features to generate dynamic content through any application integrated with it. Based on the dynamic features it can manage fonts & color.
Multilingual Support
Bubble supports 80+ International languages which makes your app to be developed in any languages. It also automates the complete process without applying any extra efforts.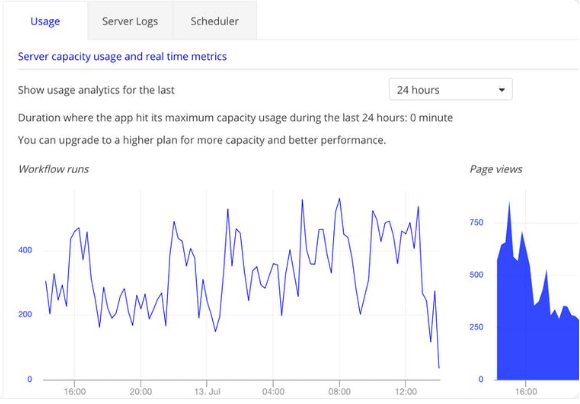 Easy Server Maintenance
Free yourself from all the deployment, hosting and server maintenance headache. This no code app builder will do it for you.
Not any Limitations
Through bubble your App will not be limited to accessible by number of users and it will never downlink your web app by large volume of traffic or data storage.
Maintain Backup & Security
Bubble's free automatic SSL certificates provides a better security features to entire apps developed within it. It also maintains the scheduling backups.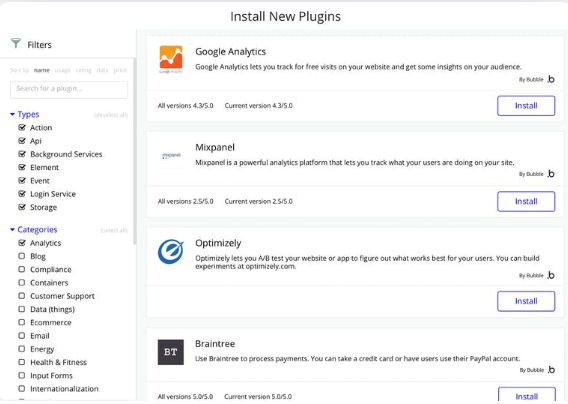 Plugins & API
Bubble has a great collection of easy-to-use plugins & API which can be easily integrated without any coding. No Code App Builder provides almost entire important plugin needed for any web app.
Track Entire Report
Bubble's powerful dashboard tracks the complete analysis through its awesome connecting features with customer management services including Mixpanel, Google Analytics, or Segment.
Grow with Targeted Audience
Circulate a customizable emails to users & integrate with email management services. Handle SEO through meta tags, customizing URL, text, titles & generating site maps.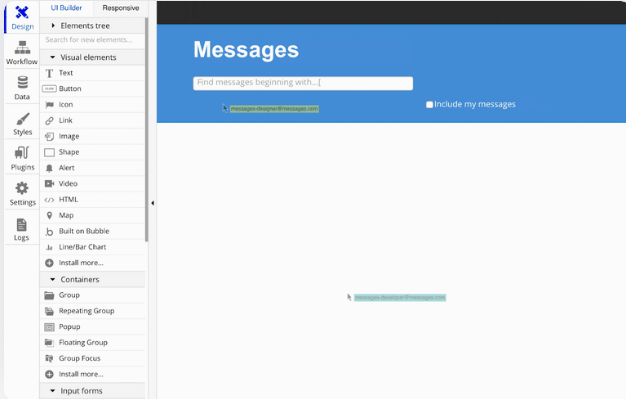 Share the Workload
The No Code Web Builder tool provides a a great feature of real-time collaboration among the team member. They can do their assigned task in a real-time.
Upto 40 Team Members
Get an opportunity to work with upto 40 Collaborators for your no code web builder application through customizable permissions & individual's access rights.
Develop Privately
This no code builder provides a functionality to secure & password protect your app that can share selectively until you're ready to show it.
Conclusion for The Best No Code App Builder Tool
The technology is rapidly growing and at the same time they are working to improve the level of users experience to fulfil their needs with a fast rate. The technology like No code technology proved to be one of the advanced way of development where it can reduce the burden on Developers, Companies and individuals who don't have any coding experience.
HOW TO BUILD ANY KIND OF APP USING

BUBBLE.IO
no code mobile app builder | no code app builder | build website without coding | no code app builder free | no code native app builder | best no code web app builder